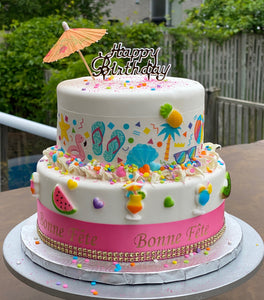 Fun in the Sun 2-Tier Cake Kit
The Fun in the Sun Kit Includes: 
Ready to use fondant;
Edible images;
Sugar decorations;
Edible glue;
Sprinkles;
Sparkling sugar,
Toppers,
Ribbon;
Paint brush;
Cake boards;
Dowels;
Fondant smoother.
*Iced cakes sold separately.
Due to COVID-19, iced cakes cannot be added to your order at this time.